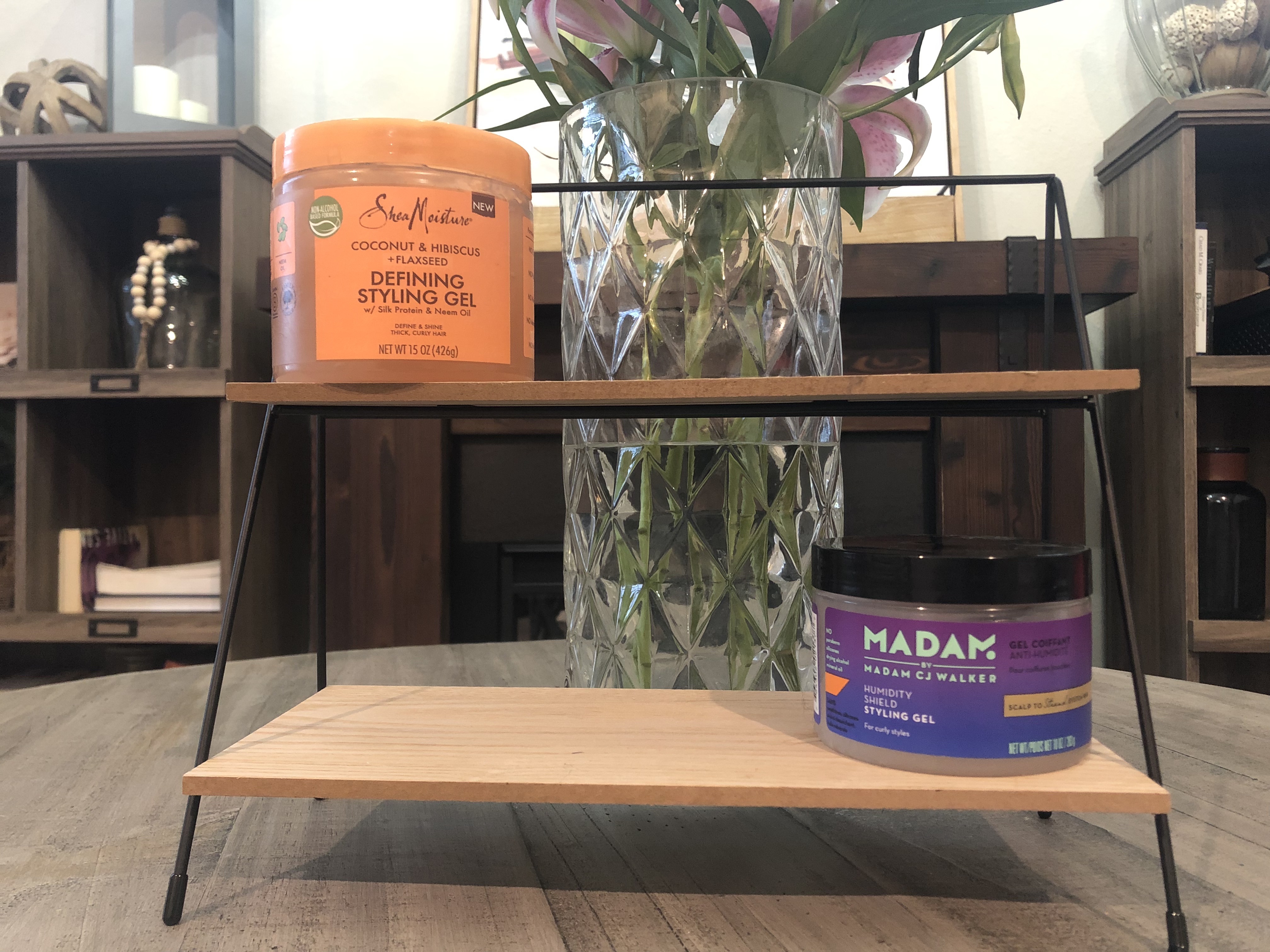 One of the things I've recently discovered is that my hair no longer likes a product that it loved. I spent a pretty penny to grab some off of Amazon because I can no longer find it locally. This was super disappointing, but meant that I needed to find something else. With this in mind, I have been trying new products that offer the same level of curl definition without being crunchy and hard. Here's what I found…
Product: 1. Shea Moisture Defining Styling Gel and 2. Madam Humidity Shield Styling Gel
Initial Thoughts: I have tried a gel from Shea Moisture previously and it was not a pleasant experience. While the price was right, I didn't want to get my hopes up only to be disappointed again. Madam by Madam CJ Walker is a newer brand (well at least new to me) so I didn't have any expectations or thoughts but I was cool with the price. I have no issues sharing that I love Big Poppa by The Doux, but because of price and the number of heads that I have to do within the house I prefer to find more budget friendly options that work for everyone.
How's it Going: I recently had a washday with my girls over the weekend and was able to try both products. I'd like to mention that while all of our curls look very similar, we definitely have different textures. The Shea Moisture actually blew my mind. It went on smooth, the curl definition was everything, and the hair look moisturized when dry. My only con is that it's on the softer side and means that the hold isn't as great as I'd prefer. However, the Madam styling gel was not my favorite. I tend to be heavy handed, but this method didn't even work for my daughter with the finer hair texture. I didn't even waste time trying on my daughter with a more kinky texture. I do think that there's a possibility if you add in a heavier gel like Wetline Xtreme you could have an envy worthy style, but I'm not certain if it would flake and of course that's a no no after going through an entire washday routine.
Is it Worth it: This is definitely going to boil down to what you're willing to work with. The Shea Moisture styling gel will definitely be added to our hair cart because I like the thickness as well as the results I had on the girls' hair, but I doubt that I'll go back for the Madam styling gel. I do plan on trying it with Wetline in the near future and will definitely update with those results.
What are your current natural hair go to products for the perfect washday?